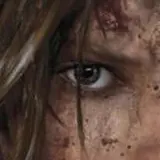 Earlier today Square Enix revealed the next chapter in Lara Croft's video game adventures will be a prequel to all games before it. Think of it as the Batman Begins of the Tomb Raider franchise.
The new upcoming game, called simply Tomb Raider, will be an origin story set at a time when young Lara travels the world as a fearless explorer. On one such voyage her boat encounters an incredibly violent storm that cripples it and leaves her washed ashore a beach in an unknown location. The only goal we know is the only one she or anyone else in the same situation would focus on: survive at any cost.
It is assumed Tomb Raider is being developed for Xbox 360, PS3 and the PC at minimum. Additional details will become available in the January 2011 issue of Game Informer magazine, due in stores shortly.