'Black Widow' Review: The Superfluous Superhero Film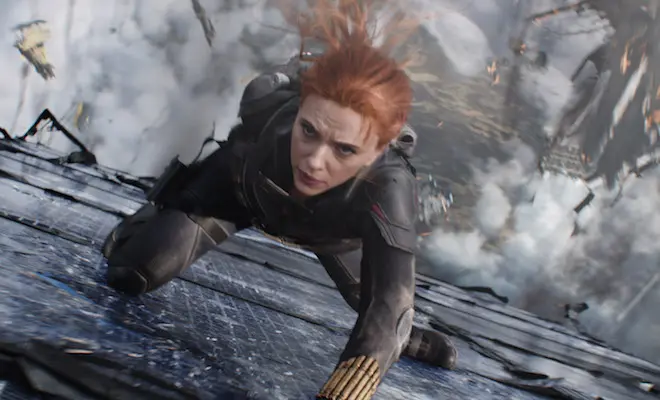 It was about an hour into the new Marvel film, Black Widow, when I began to question if this film was even necessary. The character of Natasha Romanoff (Scarlett Johansson) was killed off in Avengers: Endgame, and I wasn't sure there was much of a point of a solo film this late into the game. Where was this going to go? What was it building to? If anything, Black Widow serves to answer one lingering question: How'd Natasha get her blond hair in Avengers: Infinity War? That answer does eventually come, so I guess the film is not entirely useless.
Black Widow tells the origin of Natasha Romanoff, starting as a young girl (played by Ever Anderson), and establishing her role as part of a fake family led by Alexei (David Harbour) and Melina (Rachel Weisz), and her younger sister Yelena (played by Violet McGraw). The family are Russian operatives living in Ohio, and when the U.S. government discovers their intention, the family quickly escapes back to their handler, Dreykov (Ray Winstone), who reassigns the adults and takes the two young girls for his Red Room program.
The next time we see Natasha (now played by ScarJo), she's on the run, post-Civil War, as she's being hunted by Secretary Ross (William Hurt). In her running, she comes across a package that was left for her in Budapest, the city of oft-mentioned adventures of Black Widow and Hawkeye in their SHIELD days. Her visit to Budapest draws her back into the spy world where she reconnects with her sister, (now played by Florence Pugh), and rebuilds her estranged fake family to solve the mystery of the Red Room to finally bring it down for good.
Natasha and Yelena have to tussle with a new wave of Red Room "Widows," and a new force, Taskmaster, an operative that learns opponents' moves and uses it against them. Black Widow is full of patented Marvel Studios action pieces and humor, particularly from David Harbour's Alexei/Red Guardian. There's fight scenes, explosions, and a third act that is comic-book-ludicrous, but we've come to expect that from a Marvel film. And even with all those hallmarks, the film still feels superfluous.
Johansson seems to be tired of playing Natasha, as her performance is just sorta "there." Florence Pugh (Fighting With My Family) steals every scene she's in, and when she's acting with ScarJo, Pugh makes her lead into a supporting actress. Harbour and Weisz seem to be having fun in their roles, which makes ScarJo's apathetic performance stand out even more.
The script by Eric Pearson, based off a story by Jac Schaeffer and Ned Benson, would have been fine a few years ago (and I'm not talking about the year-long delay due to COVID). At best, Black Widow would have made a better Disney Plus show than a two-hour feature, as the story needed more exposition and less epic action pieces, including a ridiculous climax that sees a massive flying fortress come apart in the sky, and the leads all have to vacate and get back to solid ground safely.
I won't even mention the ramifications of a structure that big crashing into earth from thousands of feet in the air. I mean, it was Ultron's endgame in Avengers: Age of Ultron, but here, it's just a minor inconvenience for the people in and around the area underneath the crash site.
Black Widow is ably directed by Cate Shortland, who has a background as a TV director. Again, this would have been much better as a series, and Shortland would have been perfect to lead it. That's not to say she does a bad job here. On the contrary, the direction, along with Pugh's performance, makes the film worth watching.
Black Widow is designed to answer questions that no one was asking, and in the end, it's a rather pointless exercise. Marvel Studios has made a veritable franchise of these comic book heroes by making smart choices and shaking up the status quo when needed. This film features neither of those traits, and plays it too safe for its own good. It's rare for Marvel to miss with a film, but it was bound to happen. Since this is technically the first film of Phase 4, hopefully this isn't a portent of things to come with the three (THREE!?) other Marvel films coming out this year. I just hope those films serve a purpose.
Black Widow is PG-13 and is in theaters and available on Disney Plus Premier Access.
TheHDRoom may be paid a small commission for any services or products ordered through select links on this page.