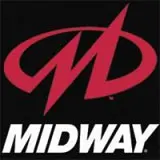 Midway Games may become the next game studio to fall under the Warner umbrella.
This morning, Warner Bros. Entertainment made a $33 million bid to purchase the majority of U.S. assets held by Midway Games.
If the sale takes place, Midway's Mortal Kombat franchise, Wheelman, Unreal Tournament and other titles could potentially join Eidos' portfolio at Warner which includes Tomb Raider.
Midway studios in San Diego and Newcastle, Britain, would not be included in the offer. It is unclear which properties might fall to the wayside without an outright purchase, which this offer is not.
Midway filed for bankruptcy earlier this year amidst mounting debt and no clear-cut hits on PS3, Xbox 360 or the PC. Smaller game studios have been struggling and are prime targets to be gobbled up by larger ones like Electronic Arts, Activision and Warner.