'Shang-Chi And The Legend Of The Ten Rings' Review: Marvel's Finest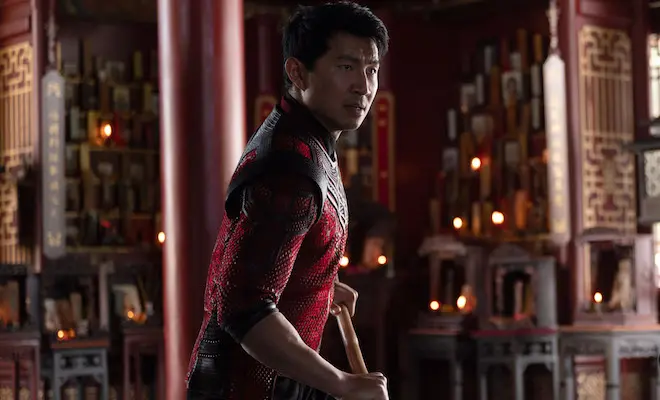 Marvel Studios is at their best when they feature heroes that are not as well known as the comic company's biggest hitters. Sure, everyone knows The Hulk and Spider-Man, but in 2008, when Iron Man was made into a feature film, the character was a B-lister and arguably a C-lister in the comics. Marvel later hit it big with Guardians of the Galaxy, a film about a whole team of C-listers, and one could argue Black Panther was not in the upper echelons of Marvel when his wonderful film was made. I bring this up, because Marvel's newest film, Shang-Chi and the Legend of the Ten Rings, continues that brilliance of taking lesser-known characters and letting them shine in their own films.
Shang-Chi And The Legend Of The Ten Rings stars Simu Liu as Shang-Chi, the son of the ultra-powerful Xu Wenwu (Tony Leung), an ancient warlord who acquired the legendary ten rings, a mystical set of bracelets, that he used to build a secret empire that has existed for centuries. Because of that power, Xu has lived all this time as a ruler until his quest for more brought him to a hidden village that contained an imprisoned ancient god. The village was protected by the mysterious Ying Li (Fala Chen), and they fell in love. Xu gave up his quest for power, stopped wearing the ten rings — bracelets instead of finger rings — and raised two children, son Shang-Chi and daughter Xialing (Meng'er Zhang).
Tragedy hits the happy family, and Xu once again dons the rings to punish the world for the loss of his beloved, and he trains his son — but not his daughter — to be a weapon in that fight. Shang-Chi is sharpened into a lethal blade and is eventually sent on an assassination job from which he never returns. This is where the audience comes into the story of Shang-Chi And The Legend Of The Ten Rings.
An adult Shang (Liu) is now living in San Francisco and working as a valet with his best friend, Katy (Awkwafina). When Ten Rings assassins attack Shang and Katy on a bus, trying to secure an amulet that Shang's mother gave him years before, Shang and Katy are dragged back into the life he tried to escape. The duo head to Macau, the gambling capital of the world — along with a gorgeous establishing shot that prominently features the Wynn Macau and Grand Lisboa casino-resorts — to reconnect with sister Xialing (Zhang) and warn her that their father is coming for her amulet as well.
All of this sets off the greater story that sees Shang-Chi reconnect with his father, find the mystical village his mother once protected, and, you know, ultimately save the world.
Shang-Chi And The Legend Of The Ten Rings blends classic kung-fu films of the 1970s with the Chinese mysticism of legend, and then wraps it in the magic of Marvel Studios, creating one of the best Marvel films to date. The film eschews the now tired Marvel origin story tropes by taking some fun chances, and the cast and crew are up to the challenge.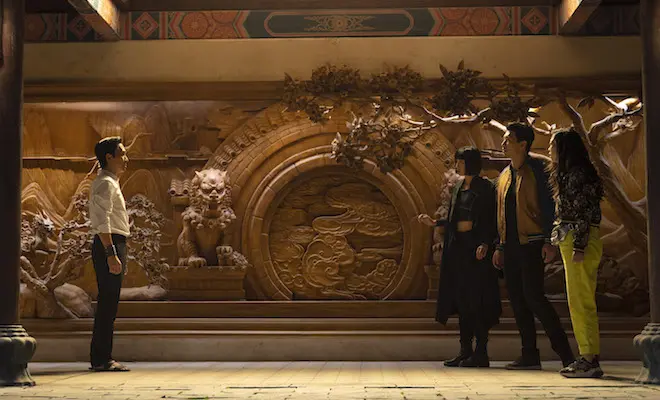 Simu Liu is fantastic as Shang-Chi. Liu doesn't play him as a brooding loner, trying to escape his past. This version of the character is fu and truly living his best life with the always wonderful Awkwafina at his side. Their friendship seems freakishly real, and it was easy to believe in their past hijinks that are mentioned throughout the film. And you can tell both are having fun in the roles.
But as good as Liu is in his role, Tony Leung is better as Xu. The warlord's history finally settles once and for all the Mandarin issue that has plagued all of these Marvel films since the first Iron Man. Beyond that, Xu is tortured by the loss of his love, and that drives him — at all costs — to do anything to bring her back, even if it means ending the world. This drives the film into a major confrontation in the third act between father and son that delivers in every way.
Shang-Chi And The Legend Of The Ten Rings was directed by Destin Daniel Cretton (Short Term 12), off a script he wrote along with Dave Callaham and Andrew Lanham. The story isn't afraid to amp up the mysticism when needed, but Cretton keeps the film grounded in reality. There are some fun Marvel cameos (and two post-credits scenes to set up Marvel's Phase 4), and Shang-Chi And The Legend Of The Ten Rings truly kicks off the next phase, whereas Black Widow failed to do anything to move the greater saga forward.
It's easy for me to call Shang-Chi And The Legend Of The Ten Rings one of the top five Marvel Studios films, and personally, I rank it at third. It combines all of the elements that make these films so great, and expands them in certain and unique ways. And as a fan of the Shaw Brothers films and other fun and wonky kung-fu films of my childhood, Shang-Chi really made me feel like a wide eyed kid again. And for that I am grateful.
Shang-Chi And The Legend Of The Ten Rings doesn't try to do too much, but what it does do it does very, very well. It's spectacle and emotion and hits the right story beats, and immediately after the story wrapped I wanted more. I wanted to watch this again, and I want to see Shang-Chi return over and over — as long as he brings Katy with him. Shang-Chi And The Legend Of The Ten Rings is one of my favorite films of 2021 and trust me when I say it will become one of yours as well.
Shang-Chi And The Legend Of The Ten Rings is rated PG-13 and is in theaters on September 3.
TheHDRoom may be paid a small commission for any services or products ordered through select links on this page.