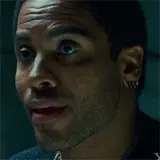 The Hunger Games movie isn't all about young tributes fighting to the death. There are vital first impressions to be made, and that's where Lenny Kravitz comes in when its time for Jennifer Lawrence to be introduced to the world.
In this second clip Lionsgate has released from The Hunger Games, Katniss (Lawrence) meets with her stylist Cinna (Lenny Kravitz) for the first time. It is Cinna's job to ensure Katniss makes an immediate impression as she is paraded around in front of the Panem world to gain the affection of the people. His idea of dress code and Katniss' aren't initially on the same page, but they're headed in the right direction.
Kravitz is an intriguing choice for Cinna and one of the most questioned casting decisions from director Gary Ross outside of Lawrence as Katniss. The rocker seems to fit into the role like a glove, addressing Katniss with calm authority in his quest to steer her in the right direction and take the deadly Games seriously. She can use all the support and gifts the people are willing to shower her with.
Through two The Hunger Games clips we have seen Katniss twice, Cinna, and the Games' judges. Co-stars Josh Hutcherson as Peeta and Liam Hemsworth as Gale haven't made the cut yet, but one or both should find their way into a clip by the time the film is released.
Also be sure to check out the first The Hunger Games clip in which Katniss puts her archery skills and attitude on display.
The Hunger Games stars Jennifer Lawrence, Liam Hemsworth, Josh Hutcherson, Lenny Kravitz, Donald Sutherland, Elizabeth Banks and Woody Harrelson. The games will officially begin when The Hunger Games theatrical domination commences on March 23.