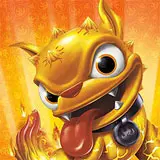 Update: Molten Hot Dog has begun showing up at Walmart stores around the country. In addition, he is also now available at Walmart.com for $9.99 as a delivery item or via free store pickup.
Click here to purchase Molten Hot Dog at Walmart.com.
One of the upcoming Skylanders Giants highly sought after repainted exclusive figures is Molten Hot Dog. Like Jade Flashwing, Scarlett Ninjini and a few other exclusives, we haven't definitively discovered where he will be available. Now we can cross Molten Hot Dog off the list.
An image floating around online confirms that Molten Hot Dog will be a Walmart exclusive. You can see the smallish image below. He's expected to cost $9.99, the same as other single pack figures.
When Molten Hot Dog will be available is still up for debate. My theory is he will ship alongside the regular single pack version of Hot Dog that has yet to be released, and arrive in stores sometime this spring. Right now Hot Dog is exclusive to the Scorpion Striker Battle Pack.
If last year's Walmart exclusive Red Armored Drill Sergeant is any indication, Walmart should be receiving Molten Hot Dog's in relatively large quantities.
Look for more updates on the availability of Molten Hot Dog in the near future. Thanks to Twitter user @Dxtra30 for the tip.