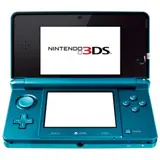 At home 3D entertainment on televisions has already been slapped with warnings suggesting some viewers may experience nausea and headache after prolonged use. Now previously warning-free Nintendo 3DS has joined the club.
Today Nintendo posted a new warning in anticipation of their upcoming 3Ds handheld gaming system that said the 3D imagery created by different images for the left and right eye could have an adverse effect on the growth of children's eyes under the age of 6. This is a similar type of warning that Sony offers in regards to playing 3D games or watching Blu-ray 3D movies via Playstation 3.
Nintendo does not go as far as to say no one under the age of 6 should never play a Nintendo 3DS but their warning will certainly make parents think twice before letting their kids near one of the devices. The game publisher goes on to recommend all viewers, regardless of age, take regular breaks every 30 minutes to relieve eye strain and fatigue from processing the 3D imagery.
Nintendo 3Ds is expected to be released in the United States during the first quarter of 2011. An exact release date has not been revealed, though some games such as Metal Gear Solid Snake Eater 3DS from Konami are already available for pre-order at Amazon.com.