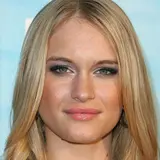 Lionsgate has filled out its District 1 combatants for The Hunger Games film, a day after the District 11 players were cast and Elizabeth Banks emerged as negotiating for a role.
Going up against Jennifer Lawrence as Katniss Everdeen will be Leven Rambin in the role of Glimmer. The almost 21-year old actress has an extensive history acting in television shows including One Tree Hill, CSI: Miami, Wizards of Waverly Place, Soundrels, Grey's Anatomy, Terminator: The Sarah Connor Chronicles, and All My Children, to name a few.
Playing Glimmer's fellow District 1 fighter will be Jack Quaid as Marvel. Jack is the son of Dennis Quaid and this appears to be his acting debut (at least according to IMDB.com).
Lionsgate has yet to confirm or deny that Elizabeth Banks is negotiating for the role of Effie Trinket.
The Hunger Games stars Jennifer Lawrence, Josh Hutcherson and Liam Hemsworth, and will be in theaters on March 23, 2012.