'Cyrano' Review: A True Measure Of A Man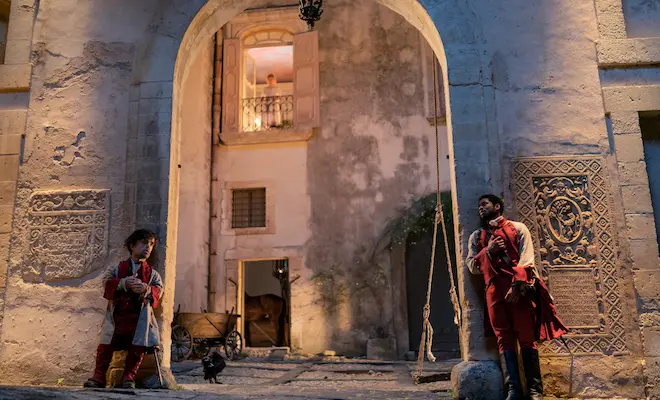 When I was in high school, I became obsessed with the story of Cyrano de Bergerac after studying it in both drama and literature classes. I read the play multiple times, saw a wonderful production of it at our local repertory theater, and watched the 1990 film starring Gerard Depardieu. I was also a fan of the 1987 Steve Martin-Daryl Hannah hit, Roxanne, which took Cyrano's story and modernized it. When Erica Schmidt adapted Edmond Rostand's original play into a musical production, simply called Cyrano, it was on my list of things to see one day, and now the film version of that stage production is in theaters and the wait was certainly worth it.
Cyrano is the story of a swashbuckling wordsmith in the French army in the early 17th century who is as adapt at poetry as he is at swordplay. France and Spain are at war, and Cyrano (Peter Dinklage) leads the city guard during the day and partakes in the city's plays at night. He's also madly in love with his childhood friend, Roxanne (Haley Bennett), and is charged with training a new recruit, Christian (Kelvin Harrison, Jr.), who also happens to be in love with Roxanne.
Roxanne tells her diminutive friend that she's also in love with Christian, and Cyrano, never wanting to stand in the way of her happiness, helps the etymologically challenged soldier woo the woman of Cyrano's dreams to the point of sheer torture. Adding further complication, the Duke de Guiche (Ben Mendelsohn) is also in love with Roxanne, and he despises Cyrano for his closeness to the woman. This love quadrangle comes to a violent end when de Guiche is given control of the city guard and he sends them into battle on a mission that has zero chance of success, hoping above all to rid the world of his two challengers to Roxanne's affection.
Cyrano makes one major change to the story, trading the titular character's prominent proboscis for dwarfism. Dinklage (Game of Thrones) reprises his role from Schmidt's musical, giving Cyrano a new adversity to overcome in his hopeless pursuit of Bennett's beautiful Roxanne, who also reprises her role from the stage production.
Erica Schmidt trades Rostand's 12-beat rhyming couplets for actual songs, though she retains some of the playwright's poetic rhyming lines, but accentuates them with huge company-wide musical numbers. The other changes Schmidt made center around Dinklage's size, but this character is more than capable of holding his own in everything but love.
Cyrano features songs written by Aaron and Bryce Dessner, with lyrics by Matt Berninger and his wife Carin Besser, with the former three coming from the band The National. The soulful songs have a hint of modern flare while telling a story set 400 years ago, and most are spectacular. Before the big climatic battle, the song(s) "Wherever I Fall, Pts. 1&2" are so incredibly gut-wrenching that I was reduced to sobs because of the somber beauty of the lyrics coupled with knowing what was to come.
Joe Wright (Darkest Hour) filmed Cyrano in Italy, and the architecture and cobbled streets give new life to the story. The biggest feather in Wright's cap was filming the big climatic battle scene on an active volcano. It gave this film a level of gravitas not seen in earlier productions of the story. Wright's direction and the wonderful cinematography by Seamus McGarvey really create a sense of the time period and infuse Cyrano with an epic feeling.
Cyrano successfully mixes strong performances from Dinklage and Bennett with amazing songs by members of The National to create a wonderful film adaption of Rostand's iconic play. In fact, it would be very easy to call Cyrano the best filmed version of the play to date. Under Joe Wright's direction, Erica Schmidt's script come to life in ways a stage production cannot, and the makes Cyrano arguably the best version of the story of a man who is measured by what is inside and not by his physical looks. And it's a lesson that humanity is still gripping with 125 years after the original play was written.
Cyrano is rated PG-13 and is in theaters on February 25.
TheHDRoom may be paid a small commission for any services or products ordered through select links on this page.