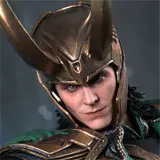 The Hot Toys Loki 1/6 scale figure modeled after the character as he appears in Marvel's The Avengers (Tom Hiddleston) is on the cusp of being sold out at Sideshow Collectibles long before it's in stock and ready to be shipped.
As of this evening, Sideshow is stating they have less than 40 of the 1/6 scale Hot Toys Loki figures left available to pre-order. This is the first 1/6 scale Loki that Hot Toys has produced. He was passed up for a figure after debuting in Marvel's Thor.
The Hot Toys Loki figure includes seven different hands, short and long versions of his scepter, a removable helmet, muzzle, shackles, and two daggers. He is scheduled to ship in December 2012.
Click here to pre-order the Hot Toys Loki 1/6 scale figure at Sideshow Collectibles, while supplies last.