'Cruella' Review: The 'De Vil' Is In The Details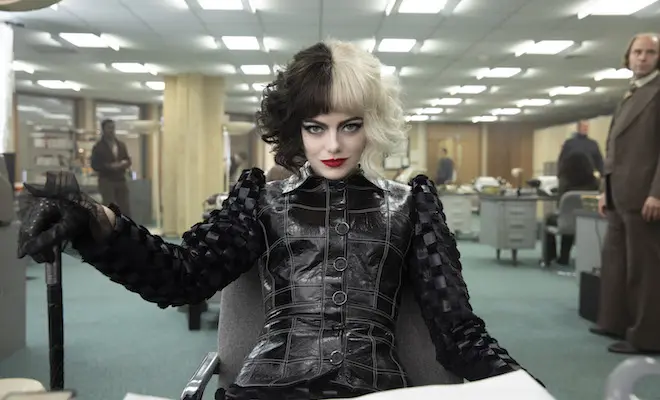 Leave it to Disney to find yet another new genre of films for fans to enjoy. By mining their extensive animated catalogue, the house of mouse has found a new revenue stream by creating live-action "origin" stories of their iconic animated villains. Maleficient was arguably the first in this genre — along with its sequel — and now the vile antagonist of 101 Dalmatians gets her due with Cruella.
Cruella stars a pair of Emmas, Stone and Thompson, as two sides of a very similar coin. The two women are at constant loggerheads over their place in the British fashion industry during the 1970s, and that clash is the crux of the film. Stone plays Estella, an orphaned girl with a troubled streak who watched her mother die when she was a kid and has spent the balance of her life living as part of a trio of thieves, along with Jasper (Joel Fry) and Horace (Paul Walter Hauser). When Estella gets her big break in the fashion industry from Thompson's deliciously evil Baroness, her life and the lives of her partners changes forever.
The Baroness Von Hellman, as fashion royalty, is a tough boss, and yet Estella seems to overcome and even impress her. When secrets begin to come out about who the Baroness really is under all that glamour, Estella adopts a new persona, Cruella, and brings the fight to the Baroness for supremacy of the London fashion world, and this is where Cruella really begins the fun.
The schemes and heists that Cruella and her team pull off on The Baroness are fun to watch, and you find yourself rooting for this person who we all know will one day strive to skin dogs to make coats, which was a little strange, but director Craig Gillespie (I, Tonya) seems to know how to handle the subject matter. After all, he made Tonya Harding a sympathetic character, and he does that and more here with Cruella. It helps that the cast is near perfect, top to bottom.
Stone seems to have fun playing both the sweet, nerdy Estella and the over-the-top, soon-to-be villain that is Cruella. It helps that the costume design and makeup sells Stone's physical performance, while the actress fuels the performance with emotion. She is elevated by both Fry and Hauser's Jasper and Horace, who add different dimensions to a character already seemingly split down the middle.
Thompson is perfect as The Baroness. It's not hard to hate this woman, and as her misdeeds compound, I welcomed her eventual fall with a certain amount of glee. The always great Mark Strong plays her valet, John, and he adds a bit of humanity to her world, much is the same way Jasper and Horace support Cruella. The casting here is impeccable and the ensemble pays off and more.
Cruella could have been a run-of-the-mill origin story that used paint by numbers to tell its tale, but the script by Dana Fox and Tony McNamara, off a story by Aline Brosh McKenna, Kelly Marcel, and Steve Zissis, packs the film with so many incredible details about Estella's life and eventual transformation into Cruella. It's fun to watch the change occur and the stunts that Cruella pulls on her one-time mentor-now-mortal enemy are just the right amount of over-the-top to work.
Those details, whether new revelations about the character, or things that tie into the greater 101 Dalmatians story pay dividends, and make for one wild ride. And I'd be remiss if I didn't mention the amazing soundtrack of period rock songs, which help set the mode for the greater shenanigans happening onscreen.
All in all, Cruella is a complete package, and is worthy to sit high in the pantheon of Disney live action films. And advertising says this film has a twist. I wouldn't call it a twist as much as I would call it storytelling, but I guess Disney has to try and sell this film, even though it's strong enough on its own without gimmicks.
I can't tell you the last time I watched a movie and then immediately wanted to watch it again. Cruella did that for me, and I look forward to multiple viewings to relish in those fine details the screenwriters peppered into their story. The music, the performances, and the direction all come together to create the first must-see film of 2021, and it couldn't have come at a better time. See this one in a theater, if you can.
Cruella is rated PG-13 and is in theaters and on Disney Plus with Premier Access starting this weekend.
TheHDRoom may be paid a small commission for any services or products ordered through select links on this page.