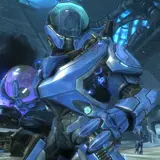 With over 6 million copies sold worldwide since Halo: Reach's launch in September, Bungie and Microsoft aim to keep gamers interest burning this holiday season with new multiplayer mayhem. There was a minor free update a few weeks after Reach's launch, but that added only a few variants to existing maps which weren't overly exiting. This new Noble Pack will cost you but offers 3 all-new multiplayer maps built entirely from the ground up.
The first map is Anchor 9 and is set within a low orbit dry-dock where UNSC craft undergo maintenance and repair. It is a much smaller map then you might expect with tight hallways and various control and mechanical rooms, a shotgun-wielding Spartan's dream come true. Besides the central docking area, everything is close quarters and intense. I found with 8 players that melee attacks are constant and shotguns ruled the match. For me, 6 players was a prime roster on Anchor to actually be able to formulate and execute decent battle strategies.
The heavily touted space walking or anti-gravity areas are somewhat disappointing and really only consist of a narrow platform. Perhaps there's more to it, but in the heat of battle I found minimal options. Much like the Zealot map, stepping out into the coldness of space really only provides an exit strategy to escape a barrage of bullets. However the map looks great, especially if you manage to check out the planet scape and space battles waging off in the distance.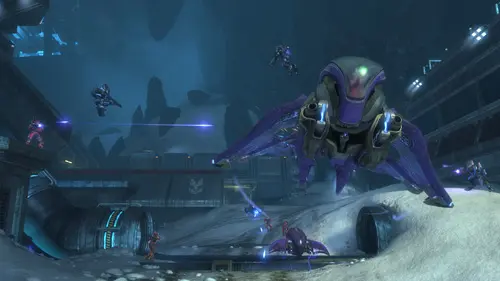 Tempest is a gorgeous map set in an abandoned shoreline facility with two opposing symmetrical bases that has no comparison in the graphics department to Reach's launch maps. 16 players is an absolute blast to play on the map, but 8 works just as well. Tempest is large enough to handle vehicles but enclosed enough to access combat soon after respawning. No walking for 2 minutes just to get back in the action, something that plagued a few of the larger original maps. The 2 opposing bases offer multiple access points with launch jumps, turrets and a multitude of nooks and crannies to achieve sniping glory. Simply seeing how long your team can defend a base will have players coming back to Tempest again and again, and that's not even a game mode. Teamwork and finding high ground is your key to success on this killer map.
Saving the best for last is Breakpoint, a series of modular archaeological labs set atop an icy precipice. Breakpoint is a massive map, but is also extremely well designed. The map features tons of unique areas to defend against assaults or to engage your enemies. Multiple structures offer sanctuary from the Banshees trying to vaporize you from above, as well as a massive choke point transport tunnel to explore. Nothing beats luring an enemy Banshee with your Warthog into the low clearance tunnel where your Scorpion tank awaits in the darkness…oh the swears and smiles during today's launch will be plentiful.
Breakpoint seems to be much more focused on balance. For all the open airspace for jetpacks and Banshees, you have a an abundance of cover points to counter. For the huge open areas which will be a snipers delight, you have various barricades and buildings to seek refuge. Breakpoint is the jewel in this map pack, as every match offers a ton of variety and options.
This new Noble map pack once again reminds gamers how much Bungie will be missed by Halo fans. Rather then rehashing something already done, they have developed three completely different and unique multiplayer experiences with excellent visuals outdoing the maps we've seen thus far. If you own Halo: Reach, purchasing the Noble pack is a no-brainer. 9.3 out of 10.
– Jason Krahn