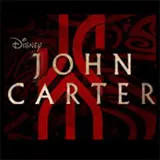 Disney has announced that they will debut the first trailer and footage for John Carter (formerly John Carter of Mars) this Thursday, July 14.
The film is based off the Edgar Rice Burroughs novel A Princess of Mars and tells the story of a former military captain John Carter (Taylor Kitsch) who finds himself caught between the tall inhabitants of Mars (one voiced by Willem Dafoe) and a Princess (Lynn Collins) and her people. Also appearing or lending their voices and performance capture are Mark Strong, Samantha Morton, Ciaran Hinds, Dominic West, James Purefoy, Daryl Sabara, Polly Walker, Bryan Cranston and Thomas Hayden Church.
John Carter was adapted for the screen and directed by Andrew Stanton of Pixar fame. You may recognize some of Stanton's previous work including WALL-E, Finding Nemo, the Toy Story films, and other Pixar classics.
Look for John Carter to arrive in theaters on March 9, 2012.