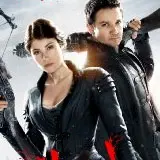 Hansel and Gretel: Witch Hunters rode the star power of Jeremy Renner (The Avengers) to easily lead the weekend box office. Fellow newcomers Parker starring Jason Statham and the ensemble comedy Movie 43 both landed with a thud in their debuts, leading to an overall soft weekend compared to a year ago.
IMAX and 3D ticket prices helped Hansel and Gretel: Witch Hunters reach $19 million for its opening weekend, though the future looks dim for the latest brother's Grimm cinematic tale. A "B" CinemaScore rating combined with a 15% approval rating at Rotten Tomatoes will result in the film shedding much of its audience by next weekend. Still, the $19 million debut isn't too shabby considering the film had been delayed a good year and was released during an historically sluggish weekend.
Last weekend's champ Mama secured a second place finish with $12.9 million. At $48.6 million and counting from a production budget of an estimated $15 million, one has to wonder if Mama will sprout any offspring in the near future.
Silver Linings Playbook continues to hold strong as it racks up awards, including a Best Actress win for star Jennifer Lawrence this evening. It added $10 million to its total, good enough for third place and a $69.5 million gross to date.
Best Picture nominee Zero Dark Thirty landed in fourth place with $9.8 million. As it slowly winds down its theatrical run with just under $70 million thus far, a Blu-ray release date has surfaced suggesting the home video debut is just around the corner.
Parker proved there is such a thing as Jason Statham excess with its $7 million debut in fifth place, nearly a million less than Statham's last bomb Safe opened with. At least its becoming obvious what a Statham headlining film with no other draw or positive buzz will open at.
The other new entry, Movie 43, landed in seventh place with only $5 million through Sunday. Blame the "D" CinemaScore or complete lack of awareness, but this one's over before it had a chance to get started.
Here's the rest of the top 10:
6. Django Unchained (Weinstein Company) $5 million (-35%); $146.3 million
8. Gangster Squad (Warner Bros.) $4.2 million (-51.4%); $39.6 million
9. Broken City (Fox) $4.2 million (-51.6%); $15.3 million
10. Les Miserables (2012) (Universal) $3.9 million (-47.8%); $137.2 million
The Sylvester Stallone thriller Bullet to the Head takes on the vampire version of Romeo & Juliet in Warm Bodies to see who can topple Hansel and Gretel: Witch Hunters from their expected short perch in first place.