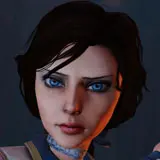 Irrational Games dropped off four new screens from BioShock Infinite this morning to get you thinking about the game again in case your mind had wandered elsewhere.
Three of the four new screens don't necessarily offer anything you haven't seen before in the gameplay video previously released. However, the final screen shows a massive room lined with columns, arches, and water canals that are stuffed with floating lit candles. Several figures are seen in the far end of the room though it's impossible to tell who they are or what they are doing.
BioShock Infinite will be available to pick up in stores beginning March 26, 2013 on Xbox 360, Playstation 3 and the PC. Expect it to become an instant Game of the Year contender within hours of its release.
Click here to pre-order and secure your copy of BioShock Infinite on the platform of your choice with free shipping at Amazon.com.