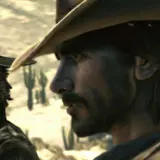 Call of Juarez: Bound in Blood arrives in stores next week on June 30 for Xbox 360, PS3 and the PC bringing multiplayer modes to the franchise for the first time.
Ubisoft has passed along a handful of new screens that shed light on how one of the new modes, Wild West Legends, will operate. Think of an episode of the Wild Wild West and you're on the right track.
In a small town with an L-shaped main street, the lawmen will be required to protect a bank, defend the stables, and keep the outlaws from escaping. The outlaws conversely will have to successfully rob the bank, steal the horses and complete their escape from town.
Also revealed is a screen showcasing the bounty hunter system which applies a dollar value to other patrons. Take them down and the bounty is yours.
Call of Juarez: Bound in Blood is the prequel to the Wild West action shooter Call of Juarez. As the McCall brothers, players enter a doomed quest for the legendary Gold of Juarez leading them from a ravaged Georgia during the Civil War to the Aztec ruins of Mexico. They make their lawless trail into the wildest West ever depicted, using their gun-slinging skills and killing all of those that stand before them. But when the brothers face lust, their bond of blood feels thinner than ever.
Shop for Call of Juarez: Bound in Blood for PS3, Xbox 360 or the PC at Amazon.com. Click any of the screen thumbs below to view a high resolution version.