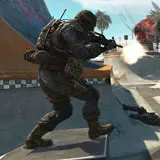 Are you ready for a revolution? Those of you who own Call of Duty: Black Ops 2 for Xbox 360 can get in on the first DLC pack, Revolution, for the game starting today.
The 2:30 gameplay trailer walks through the new maps and modes that Revolution has to offer. The Mirage map has a bit of a been there, done that feel to it. However the Downhill, Hydro and Grind maps offer some fantastic new environments to battle in. Hydro and Downhill specifically have some dynamic environmental effects that you'll spot in the trailer below.
The Revolution trailer and screens also offer a first look at Turned, a new zombie multiplayer mode where all the players except one are zombies chasing the lone human player. The catch is the human player is the only one accumulating a score, and the zombie that catches him first immediately becomes the human.
Revolution for Call of Duty: Black Ops 2 also includes a cooperative zombie survival mode called Die Rise that is set in an obliterated Chinese city.
Playstation 3 and Wii U Call of Duty: Black Ops 2 owners will gain access to Revolution at a later date. Click any of the screenshots below for a high resolution look.