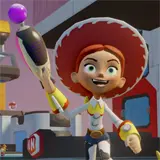 When I first caught wind of Toy Story in Space being the sixth and final Disney Infinity Play Set, I immediately conjured imagery from the opening of Toy Story 2 where Rex controls Buzz Lightyear in a video game with a mission to destroy Zurg on a hostile alien planet. I envisioned an action game where Buzz, Woody and Jessie would blast away Zurg's forces and take him down once and for all at the end. Instead, Toy Story in Space turns in its blaster and demands finessed platforming skills instead.
The adventure starts with the Pizza Planet Aliens' home world being bombarded by Emperor Zurg's forces. To defend against this menace from the sky, playable characters Buzz, Woody and Jessie (Buzz and Jessie are included, Woody is sold separately), with the help of NPC characters Slinky Dog, Rex and Hamm, construct a Star Command tower that builds a force field over the Pizza Planet Alien abodes. Suddenly all is quiet on this alien world, and it remains that way for most of the campaign moving forward.
Toy Story in Space is architecturally similar to the Lone Ranger Play Set. Both Play Sets offer a sprawling world to play in, with a core area to start and two additional areas unlocked as the campaign progresses: a mountainous area and a rocky volcano. Climbing skills are a necessity, as is the ability to move quickly from one end of the world to the other, most often by horse.
Taking a page from The Incredibles Play Set, most of the Toy Chest objects to purchase are buildings that build up the Star Command Outpost and offer new resources for the Pizza Planet Aliens to take advantage of. Collecting money to purchase buildings is a sometimes painfully slow process, so passing up opportunities to break open gold crystals for $40 a pop is not advised.
Whereas the Lone Ranger Play Set revolves around taking down Butch Cavendish and is men using weapons, and The Incredibles is all about combat, Toy Story in Space is a mostly pacifist humanitarian effort to aid the Pizza Planet Aliens. They want you to throw them a ball. Break crates. Carry them to high spots to take pictures. Find and return their missing friends. Dress them differently. Find more friends. Carry them to new spots.
There is a repetitive nature to these missions, and if it weren't for the introduction of Buzz Lightyear's jet pack and booster pack during the campaign, their monotony would become grating in under a half hour. Once those packs are unlocked, traversing the alien world's many hidden areas to find the Disney Infinity red and green capsules to unlock goodies for the Toy Box becomes more fun than anything the campaign has to offer.
Both of the packs are outstanding additions to Disney Infinity and offer the kind of tools you would expect to find in a FPS shooter title. Getting around massive Toy Box worlds is 100 times more efficient with these babies at the ready. After having used them extensively, it's hard to imagine playing Toy Story in Space or Toy Box without them.
The alien world is anything but flat aside from Star Command and requires considerable jumping and platforming skills, including well-timed use of landing a character using Buzz's jet pack – which can only be controlled horizontally — considering it doesn't stop on a dime. Many mission objectives will be over the head of casual gamers and kids, so it's best a parent is around to reach some of the seemingly inaccessible areas. I consider myself an advanced platformer and some of the areas took several tries to successfully reach.
Another neat addition unlocked in Toy Story in Space are the green and purple goo guns that grow and shrink characters and objects, respectively. There are pads that achieve this in Toy Box already, but having a gun capable of shrinking and growing the other player with a well-placed shot provides a whole other level of nefarious fun.
Toy Story in Space isn't the most thrilling campaign and its character roster devoid of Mr. Potato Head, Sarge and the Green Army guys, Wheezy, Bo Peep and others is about half of what it should be. As with the other Disney Infinity Play Sets it can be beaten in 5-6 hours, but locating all the hidden capsules and completing all the mission givers will take twice as long.
Where this Play Set earns its stars is in providing Bullseye the horse and the two best packs to utilize in the master game's Toy Box mode. I would have liked to seen more combat outside the Star Command training facility built along the way.
– Dan Bradley
Disney Infinity: Toy Story in Space was provided by Disney Interactive for review and played on Xbox 360. It will be released in stores everywhere on October 22, 2013.
Shop for Disney Infinity: Toy Story in Space for a discounted price at Amazon.com.