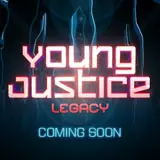 Warner Bros. Interactive has licensed the worldwide publishing rights to Young Justice: Legacy, a game based off the popular Warner. Bros. Animation DC Comics-inspired television series Justice League, to Little Orbit. The game will be released in early 2013 on Xbox 360, Playstation 3, Nintendo Wii and DS.
Young Justice: Legacy is an action RPG with an original story set between Seasons 1 and 2 of the television series. Show writers Brandon Vietti and Greg Weisman pitched in on the narrative in a collaborative effort.
Many Justice League heroes and villains are expected to appear in the game as playable characters or in cameo roles. Gameplay will feature local and online multiplayer options in addition to a more traditional single-player campaign.
The third season of Justice League premieres on Saturday, March 3 at 10:30am EST/PST on Cartoon Network's DC Nation block.