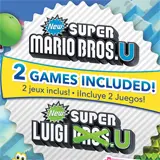 Nintendo has announced their second major change to the Wii U Deluxe console following a lukewarm response from buyers and critics when it made its debut almost a year ago.
Beginning Friday, November 1, the Wii U Deluxe console will no longer include the current pack-in game Nintendo Land. Instead, buyers will find a pair of games that share a close relation to one another: New Super Mario Bros. U and its expansion entry New Super Luigi U. Both of these games will be packed onto a single disc and come included with all Wii U Deluxe consoles from November 1 forward.
Nintendo Land may have been ousted from the Wii U Deluxe set, but you will still be able to purchase it individually either in stores or as a digital download via the Nintendo eShop.
A couple months ago Nintendo made their first big Wii U adjustment in an attempt to pump some life into stagnant sales. The price of the Wii U Deluxe console was lowered from $359.99 to $299.99, and the former standard white console priced at $299.99 was retired. Early sales numbers have been promising as Wii U sales are finally headed in the right direction.
Another Wii U Deluxe option now available is The Legend of Zelda: The Wind Waker HD limited-edition bundle. It includes an exclusive Zelda-themed GamePad, download code for a digital copy of the Hyrule Historia book, and The Legend of Zelda: The Wind Waker HD game digital download code. This bundle is priced at $299.99 as well.