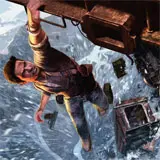 The game that warranted its own Playstation 3 bundle this holiday season and was a standout early PS3 exclusive is finally confirmed to be receiving a sequel.
Developer Naughty Dog confirmed via the Official Playstation Blog that Uncharted 2: Among Thieves, as it has been named, is well into development.
The first teaser trailer that depicts Nathan Drake slogging through the snow premieres this evening on the Spike Network during UFC Unleashed. The full-blown trailer is set to premiere exclusively during the 2008 Video Game Awards. That is scheduled for Sunday, December 14 at 9PM on Spike.
Around the same as Spike reveals the first full trailer, Game Informer will release their January issue with Uncharted 2: Among Thieves featured on the cover. Early details revealed in teaser text promise the sequel revolves around the 13th century explorer Marco Polo and his voyages. New gameplay features will include a free-form climbing mechanic and stealth gameplay.
You can check out Game Informer's cover and teaser right here.
Drake's Fortune has become a beloved title for many Playstation 3 owners so the pressure is certainly on for Naughty Dog to deliver with Among Thieves. By turning the environments upside down with a move from lush green jungles to a snowy environment, they are well on the way.