'Call Of Duty: Black Ops Cold War' Review: I Spy A Trend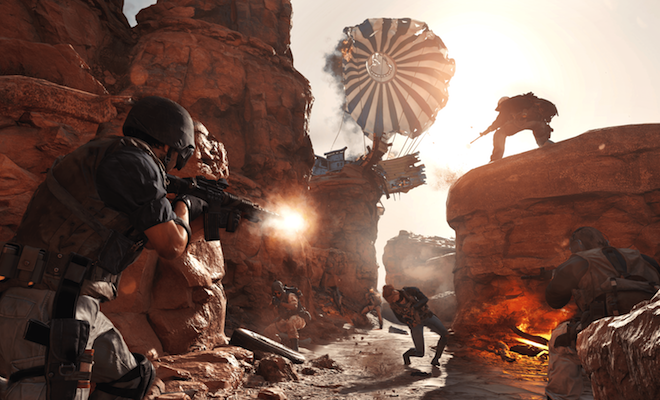 In the grand scheme of things, Treyarch has the espionage angle cornered when it comes to Activision's juggernaut Call of Duty franchise. After three games centered around the war behind the war — and one game we wish we could forget about — the developer is back with another narrative stab in the Black Ops world with Call of Duty: Black Ops Cold War, and the shift back to a time before silly sci-fi story tropes, and the terror of Raul Menendez, pays off in a big way.
As you might be able to derive from the title, Call of Duty: Black Ops Cold War is set in the early 1980s during the height of the Cold War between the U.S. and the U.S.S.R. The story revisits Alex Mason and Frank Woods and Jason Hudson, characters made popular in the first Black Ops game. The new characters added for this chapter include Russell Adler, a scar-faced 1970's Robert Redford clone with amazing hair, and the mysterious "Bell," the character the player controls for the majority of the seven hour campaign.
Players get to name "Bell" (Bell is just their nickname), and even opt for some personal background elements that give buffs during the campaign. The levels send Bell and the covert CIA team around the world, and even back in time to Vietnam, as they try to uncover the identity of Perseus, a Soviet player who has designs on possibly starting World War III.
The new wrinkles in this campaign allow for the player to seek out and uncover evidence in the levels that must be studied to piece together facts for two very neat side-missions that can work to cripple Perseus' network. I found great joy getting to play a spy myself by reading the evidence and solving the puzzles are I collected more and more pieces of evidence.
Of course, this is a Treyarch Black Ops game, so the story has some crazy twists near the end that makes the player begin to question everything, and there's even a choice to be made in the penultimate mission that dictates how the story wraps up.
Screenwriter David Goyer (Krypton, Man of Steel, Nolan's The Dark Knight Trilogy) is back in the fold for Black Ops Cold War, and he brings his high level of storytelling to the campaign. Goyer also wrote the story for the first two Black Ops games, so his pedigree in this fantastic game world is a welcome return.
The campaign is a nice return after Black Ops 4 completely omitted the game mode, much to its detriment. And it was nice to interact with Woods and Mason again, as at this point, they feel like old friends. The first Black Ops is one of my all-time favorite Call of Duty games, one that I played and replayed over and over back in 2010 when it was released.
Call of Duty: Black Ops Cold War also delivers in other ways. The solid multiplayer mode makes some much needed tweaks to the tried and true formula, and none are bigger than the fact the Scorestreaks do not reset after death. This gives casual players the ability to call in some of the bigger scorestreaks, like napalm strikes and various gunship raids, even if their K/D ratio is skewed more toward the latter.
Multiplayer has around eight maps (more are coming soon, including the just announced Nuketown '84 map that drops next week), and as expected, there are plenty of weapons to use and level up. Joining last year's amazing Modern Warfare, Black Ops Cold War will also utilize battle passes and seasons, and even work with Modern Warfare in a cross-game capacity. And the cross-play doesn't end there.
The massive multiplayer mode Warzone and Zombies are also included with Call of Duty: Black Ops Cold War, rounding out a stout game package. And player progress in both level and weapon level grows across all game modes, creating a seamless game experience. The campaign and the three multiplayer modes give the player options on how they want to play without penalty to their progress.
This is a far cry from the bare-bones Black Ops 4, and a very welcome return to glory for Treyarch and Raven and the handful of other studios who collaborated to make this game a reality. Zombies mode took a much needed break last year, but its inclusion here is welcome. It makes for a nice break from playing the campaign and the chaos of the multiplayer modes (MP and Warzone).
Call of Duty: Black Ops Cold War also gives the player plenty to unlock, with various levels of challenges spread across the various modes that unlock cool new calling cards. And the battlepass should unlock new skins for the 14 or so Operators, giving the player new levels of customization options. And there could even be new operators added as the new seasons come.
As for new gen console play (PlayStation 5 and Xbox Series X/S), Call of Duty: Black Ops Cold War utilizes the new whistles and bells. I played this on a PS5 and the DualSense controller is absolutely amazing. The built in mic and speaker removes the need to headsets, and the haptic response and adaptive trigger response means you can feel the clicks of a reload and the give and pull of squeezing a trigger.
All in all, once you play this — or any game — with a DualSense controller, it will be impossible to go back to playing on a DualShock controller. And kudos to Treyarch for adopting these new featured to create an amazing FPS experience.
It's also important to note that the PS5 stays whisper quiet throughout the entire game, no matter the mode, and the seamless way you can jump in and out of modes from the game page screen is a real treat.
I'm proud to report that Call of Duty: Black Ops Cold War has restored my faith in the Black Ops franchise. I make no secret my disappointment with Black Ops 4 (I've mentioned it a few times in this review — sorry for beating that dead horse so often), and I'm thrilled that I once again got to go one a trippy narrative adventure on top of playing intense multiplayer matches and Zombie destruction. This game is Treyarch's make-good to longtime fans, and they made it very, very good.
Call of Duty: Black Ops Cold War is available now on the PS4, PS5, Xbox One, Xbox Series X/S and PC. The game supports cross-server play, so everyone can play together, no matter the system they choose to play on. This review was based on the PS5 version of the game, and a game code provided by Activision.
All images courtesy of Activision.
TheHDRoom may be paid a small commission for any services or products ordered through select links on this page.