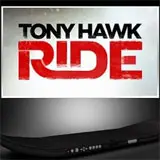 Activision has announced Tony Hawk: RIDE, the first peripheral driven game in the franchise, will be released November 17 in North America and November 20 in the U.K. and Germany on Playstation 3, Xbox 360 and Nintendo Wii.
Retailers had been reporting a mid-October release date and actively taking pre-orders for the $120 gaming package that includes the game and skateboard controller accessory. The extra month is either for fine tuning or to release close to the holiday shopping season given the $120 price tag.
If you want to lock in your Tony Hawk: RIDE game and skateboard peripheral for PS3, Xbox 360 or Wii, head over to Amazon.com where all three are currently up for pre-order.