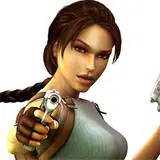 The venerable Lara Croft in Tomb Raider will be returning to the big screen in 2013 with a makeover, new origin story, and one lucky lady replacing former franchise star Angelina Jolie.
Graham King and GK Films have bought the feature film rights to the Tomb Raider franchise and, wasting no time, have announced their intent to reboot it into a new series with the first installment swinging into theaters in 2013. King and Tim Headington (executive producer on Rango and The Tourist) will co-produce the first feature.
In returning Tomb Raider to the big screen, King will be looking for a new young Lara Croft to re-tell the young adventurer's origin story. That means Angelina Jolie as Lara Croft is out and a new actress to fill some pretty big shoes – and bra – will be sought.
King has yet to hire a writer for his Tomb Raider reboot but is expected to begin looking for one having successfully secured the film rights.
Angelina Jolie had starred in Lara Croft: Tomb Raider and Lara Croft Tomb Raider: The Cradle of Life for Paramount Pictures in 2001 and 2003, respectively. Each was marginally successful at the domestic box office but performed stronger outside the United States in earning over $400 million total between the two films.
Ironically Crystal Dynamics is working on a new Tomb Raider game that will, like the upcoming film, return to Lara's origin story. As of now there is no release time table set for that game.
Source: THR