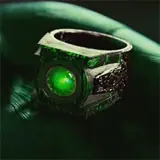 Last night Warner Bros. took the wraps off The Green Lantern via the film's first teaser trailer. Tease this trailer does and then some, but hold back on the good stuff as teasers usually do this trailer does not.
The teaser covers all the bases of what you'd expect to find in a final full blown trailer. Meet Hal Jordan, womanizing test pilot whose life takes an unexpected turn when he happens upon a crashed alien spacecraft. Action? Check, and lots of it. Sinestro, Abin Sur, Hector Hammond, Kilowag, Tomar-Re and more are all on display. There's a close-up of the ring Ryan Reynolds now knows all too well. Several shots of Oa, the Green Lantern's home planet. The only thing really missing (unless I'm missing it) is a clear shot of Parallax.
Watch The Green Lantern trailer below now, or head on over to Apple.com to download and view the trailer in its full high definition glory.