'Coming 2 America' Review: Welcome Back, Old Friends
The original Coming to America is arguably Eddie Murphy's crowning achievement in the entertainment industry. It was a showcase of talent, not only from Murphy, but from top to bottom that was stacked with memorable lines and scenes — and so many laughs. It was one of those films that never needed a sequel, as the story ends satisfactorily on-screen, as it should have. But with Hollywood being Hollywood, nothing lasts forever, and now Coming 2 America is here, exclusively on Amazon Prime Video. The sequel no one asked for absolutely delivers, and I'm so glad it is here.
Coming 2 America is like meeting up with old friends you haven't seen in many years. They seem the same as they were, and yet, life has changed them, for good and bad. The film is loaded with returning actors and characters, and yet none of it feels contrived. And some of the returning characters are great surprises, like Garcelle Beauvais, who was a nobody when she played one of the rose petal girls in 1988, but is now an established actress and star of the Real Housewives franchise. She has also made a name for herself outside of acting. She returns to her role as rose petal priestess. This is just one example of how Murphy and company got a majority of the gang back together for this film.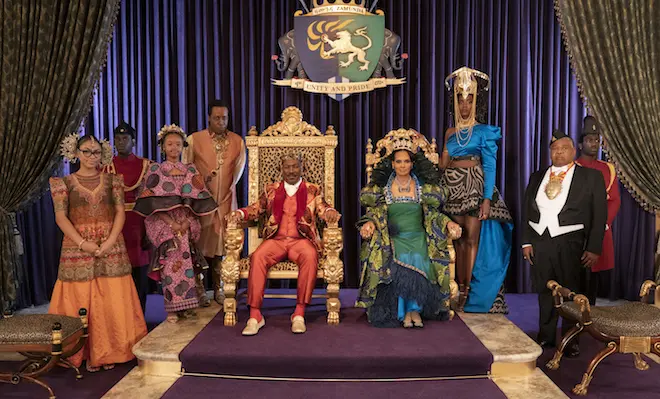 Coming 2 America picks up 30 years later, with Prince Akeem (Murphy) and his wife, Lisa (Shari Headley), enjoying life in Zamunda and preparing for the coming death of King Jaffe Joffer (James Earl Jones). Akeem has three daughters, but no son, and the king is concerned that there will be no heir to the throne when Akeem passes away.
That fear is exacerbated by a neighboring country ruled by a military despot, General Izzi (Wesley Snipes), who is ready to pounce once the king dies, with plans to assassinate Akeem and take over Zamunda unless the two countries form an alliance through marriage — something Princess Meeka (Kiki Layne) refuses to do.
The king discovers that Akeem, during his adventures in Queens to "sow his royal oats," slept with a woman and produced a bastard son. Semmi (Arsenio Hall) kept the union secret all these years, and now Akeem must return to America to find his son, Lavelle Junson (Jermaine Fowler). Lavelle is a hustler for his Uncle Reem (Tracy Morgan) and works to make ends meet for his mom, Mary (Leslie Jones). When the Zamundan leader shows up and declares him royalty, Lavelle and Mary are whisked off to Africa and a new adventure begins.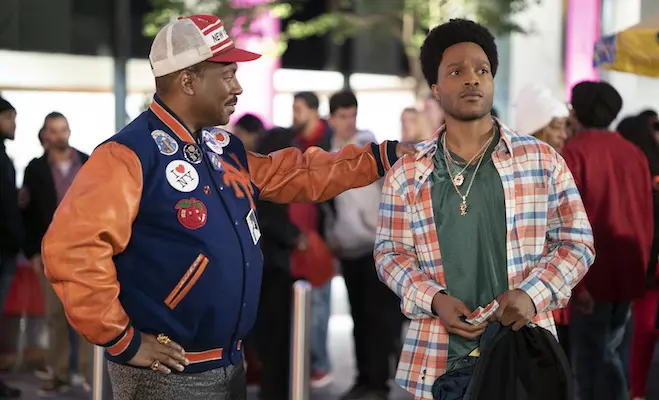 The story affords the audience an amount of joy in revisiting with these classic characters, and still find new laughs with the addition of Snipes, Jones, Morgan, and Fowler. The script by Barry W. Blaustein, David Sheffield, and Kenya Barris, based off a story by Blaustein and Sheffield, takes great care to not rehash old bits without a proper updating.
The My-T-Sharp barbershop in Queens still has the same four guys (played by Murphy, Hall, and Clint Smith, all in various makeup applications), but their comments are topical and relevant to today. So when these characters appear, it never feels forced. I particularly enjoyed seeing John Amos' Cleo McDowell on-screen again. I've enjoyed Amos's work for most of my life, dating back to watching Good Times as a kid, and seeing him again brought me joy. It truly felt like checking in with old friends, pun intended.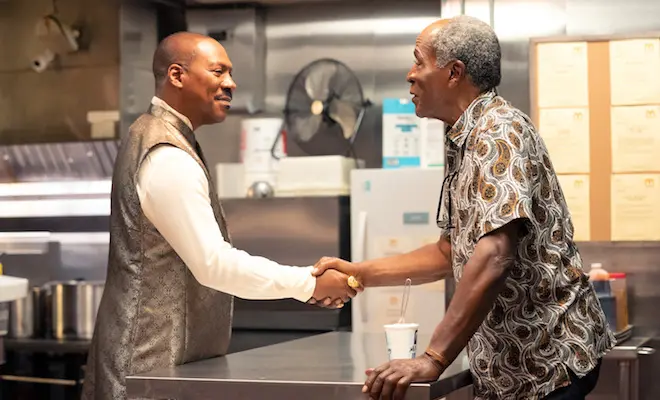 Director Craig Brewer, who directed Murphy in 2019's Dolemite Is My Name, picks up the mantle left by the incomparable John Landis and creates a near-seamless story. In preparation for this release, we recently re-watched the original film and they match up perfectly. They could be watched back-to-back to create one epic four-hour story, and not many sequels can say that.
The original Coming to America was a comedic revelation in 1988 that elevated its cast into superstardom, and while Coming 2 America may not reach those lofty goals, it doesn't do anything to tarnish the first film. This continuation of the story of the royals of Zamunda serves as a joyful peek into their lives some 30 years later and reminds fans that these characters still matter and more importantly, are still funny. I enjoyed revisiting this story, then and now, and I'm happy that we got the chance to see just how things turned out after Akeem and Lisa's carriage ride ended all those years ago.
Coming 2 America is rated PG-13 and is available on Amazon Prime Video starting on March 5.
TheHDRoom may be paid a small commission for any services or products ordered through select links on this page.