South by Southwest 2013 day 3 has arrived and despite getting the most sleep I've had in the past week, I'm slightly worn out. It only mildly phases me that as I eat my breakfast, Ken Marino and Martin Starr are two tables away from me doing an interview with someone wearing a camera on his forehead. My eyes feel a few blinks away from sleep. This chair might as well be made of clouds and dreams. This coffee isn't working. It may be time to call upon the healing powers of strong drink.
On top of being robbed of an hour of sleep by the cruel gods of Daylight Savings, yesterday was a non-stop 18+ hours of line waiting, street walking and, of course, movie watching. It also included getting to breathe the same air as Paul Rudd and Olivia Wilde, but that's neither here nor there. Where was I? Oh yes, movies!
Prince Avalanche is a wonderful little film starring Paul Rudd and Emile Hirsch as two guys working road repair in 1988 Texas. Directed by David Gordon Green, the film has a subtle nature to it that organically builds comedy and sadness without setup. The entire film focuses on the interactions between the two, facing the doldrums of the present and the uncertainty of the future. A wonderful piece of filmmaking that won't receive much attention, but is worth seeking out. Rudd and Hirsch are hilarious and affecting throughout and Green's direction and storytelling is spot on.
Joe Swanberg's latest film, Drinking Buddies, is a captivating examination of relationships, adulthood and beer. It's propelled by incredible performances from Olivia Wilde and Jake Johnson, along with strong contributions from Anna Kendrick and Ron Livingston. The film studies connections, both casual and romantic, and where those lines can blur, be broken or remain steadfast in the face of ease. It's a film that never takes the route you think it will, which is incredibly refreshing. More than a few laugh out loud moments interlaced perfectly alongside the film's more serious affair.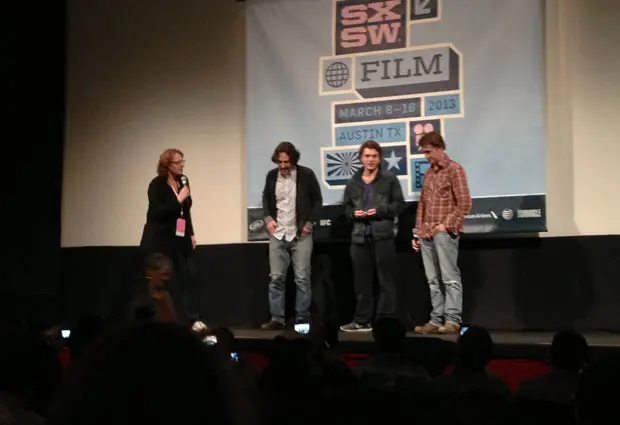 If you took the ghosts stuck in the house aspect of Beetlejuice and the never-ending day theme of Groundhog Day, and made both aspects terrifying, you'd be close to the story that Vincenzo Natali is attempting to tell with his latest film, Haunter. The film stars Abigail Breslin as a young girl named Lisa that is incessantly reliving the day before her 16th birthday, which is the day she and her entire family were killed. Unlike the rest of her family, Lisa is aware they are dead and is growing mad with the never-ending routine. Through accidental contact made with the living, Lisa realizes that she wasn't the first to die in this house and if she can't help this new family living in her house, she won't be the last. Haunter is an interesting take on the traditional haunted house movie that slightly suffered from budgetary restraints. Strong performance from Breslin who really succeeds in carrying the film.
I've got a trio of films I'm taking in today that run the gamut of genre fare. First up will be The Wait starring Chloe Sevigny and Jena Malone. It revolves around a family who, thanks to a phone call from a psychic, await the resurrection of their deceased mother. Next will be the Duplass brothers produced Milo; a film about a guy that thinks he has a bad stomach ache, though it turns out the truth is he is a host for an ass demon. The film stars Ken Marino and Gillian Jacobs and I couldn't be more excited about it. Closing out the night will be You're Next which promises to be a new take on the home invasion trope as a gang of murders that have taken over a family reunion get their own surprise when a far more talented killer arrives on the scene.
Enough with the jibber jabber. Time to shake off the sleepy and go see about that drink.