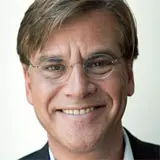 Aaron Sorkin, who deservedly won an Academy Award for his writing efforts on The Social Network screenplay adaptation, has sealed a deal with Sony to pen the screenplay for another biopic big screen adaptation with big expectations, Steve Jobs.
According to E!, Sony has been courting Sorkin for the Steve Jobs biopic film based on the best-selling biography by Walter Isaacson since as early as November, 2011. It's unclear why it took Sony so long to convince Sorkin to come on board to help translate the Apple co-founders early years for movie audiences, but one of the reasons likely had to do with scheduling.
The Steve Jobs biography outsold all other books in 2011 at online retailer Amazon.com by 2:1 with 2.24 million copies sold. Sales spiked after the Apple visionary's unfortunate passing, but will likely remain strong with news of the film moving forward with Sorkin attached.
Sony Pictures Co-Chairman Amy Pascal commented in the official press release that Sorkin will bring to the Steve Jobs film what Steve Jobs was himself: "captivating, entertaining, and polarizing."
Sorkin has been a hot commodity since his work on David Fincher's The Social Network. His snappy screenplay was arguably better than the biographical source material it was based on. With Sorkin on board, directors should – in theory – be lining up for a chance to direct a film written by the award winner.
Aside from Steve Jobs, Sorkin has acquired the rights to Andrew Young's novel The Politician which he intends to adapt for the big screen and make his directorial debut with. He will likely finish the screenplay for Steve Jobs before moving on to The Politician.
Sometime in late 2013, Sorkin will shift gears and make his broadway debut in Houdini as a librettist, appearing alongside star Hugh Jackman.
Aaron Sorkin's past screenplay works include David Fincher's The Social Network, A Few Good Men, Moneyball with Brad Pitt, and the television series The West Wing and Sports Night, amongst others. With Steve Jobs, Sorkin should position himself for another Academy Award run.