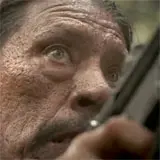 Fox has uploaded the latest featurette for Nimród Antal and Robert Rodriguez' Predators that zeroes on the character of Cuchillo played by Danny Trejo.
Stick around to the end of the featurette for a couple quick glimpses of the Predators themselves. Otherwise prepare for a lot of Trejo looking mean and badass as only the grizzled actor can.
Additional character profiles for Royce, Edwin and Isabella are available at the official Predators website. Predators arrives in theaters on July 9.