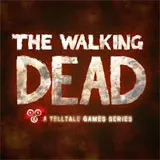 With The Walking Dead creator Robert Kirkman in the house, along with castmembers Steven Yuen, Norman Reedus and Danai Gurira serving as presenters, it wasn't a stretch when the Telltale game inspired by the series and comic took home the award for Best Game at the profanity filled 2012 Spike Video Game Awards.
The irony of The Walking Dead: The Game big VGA win is video game analyst Michael Pachter went on camera moments before the event kicked off and proclaimed there is no way either of the two downloadable games up for the top award, the other being Journey, had a shot at coming out on top. He firmly believed that one the popular "top dollar" games like Assassin's Creed 3 would walk away with the honor because gamers perceive the depth of games by how much they cost. He's eating those words this morning.
Developer Telltale Games nabbed four more awards for The Walking Dead: The Game including Studio of the Year, Best Performance by a Human Female (Melissa Hutchison as Clementine), Best Adapted Video Game, and Best Downloadable Game. Taking home the top prize is the real score and marks a turning point in an industry where the quality and depth of downloadable games are beginning to encroach upon the territory of traditional disc-based games.
Gearbox's Borderlands 2 was another big winner, taking home the award for Best Shooter over the likes of Call of Duty: Black Ops II. It also scored the Best Multiplayer, Best Performance by a Human Male (Dameon Clarke as Handsome Jack) and Character of the Year (Clap Trap) trophies.
Though Journey did not win Best Game in 2012, it did win Best PS3 Game, Best Original Score and Best Independent Game. Best Xbox 360 game went to Halo 4 while top Wii or Wii U game went to New Super Mario Bros. U, neither of which was much of a surprise.
Video Game of the decade was voted upon by gamers with the award going to Half-Life 2. A well-deserved win for a fantastic and memorable game.
New games revealed as world premieres include the mysterious and atmospheric The Phantom Pain and a stunning CGI movie for Dark Souls 2. It was also announced that the Naughty Dog new IP The Last of Us will arrive on Playstation 3 on May 7, 2013.