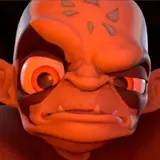 Skylanders Giants is poised to be a huge hit this holiday shopping season after Skylanders: Spyro's Adventure took retailers and Activision by surprise when thousands upon thousands of kids got the game for Christmas and quickly scooped up all the available figures until none were left.
The Skylanders brand is alive and well with a console game, online game, 3DS portable game, and upcoming tablet-based games. It's not going anywhere any time soon, which has us looking ahead as to what might be coming in 2013.
During my visit to Toys for Bob a few weeks ago, I noticed all the developers were hard at work despite the game having just gone gold. Clearly more levels and/or games are on the way, and the first indication as to what direction they might go is hidden within Skylanders Giants.
Completing the stoy mode of Skylanders Giants initiates a rather extensive credits roll that takes several minutes to cycle through. Flynn keeps things lively through the first portion, but there's a lot more to go after he's done and gone.
Sitting through the credits will reveal a post-credit cut-scene that sets up, you guessed it, Skylanders 3.
Major Spoilers Follow so proceed at your own risk.
Last warning…
In the Skylanders Giants post-credits scene, Kaos and Glumshanks return to Kaos' castle after having crashed in the Arkeyan robot they ride around in for a portion of the game. Defeated but not discouraged, Kaos begins to rant about how he has 37 (I think, it was 30-something) more plans to take over Skylands and will not stop for anything.
While Kaos rambles on, a large shadow hovers over both him and Glumshanks. The pair look up – way up – at the shadow, and Kaos says simple, "mother?"
Mom, as I'll call her, is referenced during the Kaos Castle level so her appearance-of-sorts in the post-credits scene isn't a total surprise. Still, her presence in the next game should mix things up from the "Kaos versus Skylanders" theme of the first two games. Clearly Kaos has some mommy issues that should be hysterical to see addressed.
As Master Eon says to close the game, there are many more adventures for your Skylanders and Giants to come.
Read our Skylanders: Giants review.