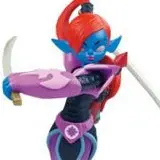 With Toy Fair 2013 just around the corner, Activision and Toys For Bob are on the verge of announcing what's next in the Skylander franchise. To celebrate the arrival of Toy Fair, Activision has put together a promotion involving the final Giants character to be released, Ninjini, that is sure to generate some long lines.
On Tuesday, February 5 at the Toys R Us in Times Square beginning at 4pm, Activision will be giving away Ninjini Skylanders Giants figures to those standing in line while supplies last. In addition, during the store's hours between 10am and 10pm, Toys R Us will be offering $25 off the Skylanders Giants Starter Pack as well as a buy two, get one free promotion on all Skylanders Giants characters (the Giants themselves, not the regular Skylanders). With any luck they'll be fully stocked with Thumpback and Eye Brawl, the two newest and coolest Giants in my opinion.
This will be the first public offering of Ninjini as she will not be available in stores at the time of the promotion. We still don't know when she will be released.
There will be other live giveaways starting at 4pm for kids, and the ability to meet costumed Skylanders characters as well as take place in activities – including playing the game. In other words, it's a family affair and those of you who live in or near New York City should definitely swing by.
Toys R Us Times Square is located at 1514 Broadway at 44th Street. We'll have much more Skylanders news in the very near future.