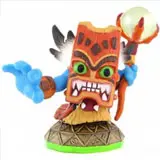 Looking to build up your Skylanders and Skylanders Giants collection on cheap? There's some sales going on over at Amazon.com that you might want to take note of.
Earlier today, Amazon sold a number of Skylanders characters from the first game for only $2.99 each in a Lightning Deal. They sold out almost immediately showing clearly there's demand.
At 1:10pm PST, Amazon will be running a similar Lightning Deal, amongst others, that offers Double Trouble and Stealth Elf for $2.99 each. A third $2.99 "accessory" is also listed, but I can't tell who or what it is. These figure will work on Skylanders and Skylanders Giants, including the new Wii U version that just came out.
You can take advantage of this Skylanders Lightning Deal and other video game deals right here at Amazon's Black Friday Deals Week page for video games.