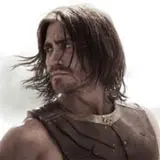 The first theatrical trailer for Jerry Bruckheimer's Prince of Persia: The Sands of Time film has been released in a tidal wave of CGI sand and elaborate special effects befitting the Ubisoft video game series from which the film draws inspiration.
In the film, a rogue prince played by Jake Gyllenhaal and a mysterious princess played by Gemma Arterton are tasked to carry a sacred dagger with the power to reverse time to its resting place before the forces of evil acquire it for their own nefarious intentions.
Prince of Persia is directed by Mike Newell of Harry Potter and the Goblet of Fire fame and co-stars Alfred Molina and Ben Kingsley. Look for it to help kick-off the 2010 summer movie blockbuster season and hope to reverse the trend of bad video game-to-film adaptations on May 28.
View the trailer in high definition at MySpace's Trailer Park.