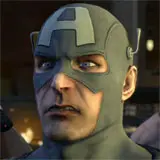 Choosing a side is just the beginning and that beginning will commence on September 15 when Activision releases one of the hottest pre-ordered games this holiday season, Marvel: Ultimate Alliance 2.
To go along with the rapidly approaching release, Activision has passed along this launch trailer full of cut-scenes intermingling with some gameplay footage. Think of it as a sneak peek into what Marvel's The Avengers film might possibly look like.
Though the trailer is pulled from the Xbox 360 and PS3 versions, Marvel: Ultimate Alliance 2 will also be available on Nintendo Wii, PS2, PSP and DS the same day.
Click here to shop for Marvel: Ultimate Alliance 2 on the gaming platform of your choice at Amazon.com.