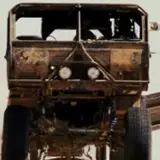 A second trailer for Universal's Fast Five was released today and dials back the action a gear to give a better idea of the plot. Don't worry; there's still a ton of action, cars and babes packed into the 2:30 spot.
Fast Five stars Vin Diesel, Paul Walker, Jordana Brewster, Tyrese Gibson, Chris "Ludacris" Bridges, TSung Kang, Gal Gadot, Tego Calderon, Matt Schulze, and Joaquim de Almeida. Dwayne Johnson joins the franchise in Fast Five as a law enforcement official and couldn't fit in better.
Even if you aren't a fan of the Fast & Furious series be sure to check the trailer out. It ends with an absolutely crazy stunt.
Fast Five helps kick off the summer movie season when it drives into theaters on April 29.