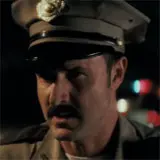 Dimension's Scream 4 trailer debuted last weekend at the Scream 2010 Awards and not long thereafter bootlegged versions began popping up on YouTube. The Weinstein Company was doing an admirable job of yanking them down, something they won't have to worry about anymore.
The official Scream 4 teaser trailer has finally been released so you can cleanly watch Wes Craven and Kevin Williamson's reunion effort. It's hard to tell which scenes are Ghostface kills and which are just misses. Looks like a fun return to the Scream universe nonetheless.
Scream 4 stars franchise veterans Neve Campbell, David Arquette and Courteney Cox, along with fresh meat Hayden Panettiere, Rory Culkin, Emma Roberts, Anna Paquin and Kristen Bell. It hits theaters on April 15, 2011.
View the Scream 4 trailer in high definition at Yahoo! Movies.