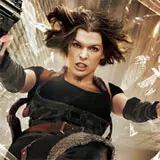 A second trailer for Resident Evil: Afterlife debuted on G4's Attack of the Show over weekend, around the same time a new 3D Resident Evil: Afterlife poster debuted at IGN.
Apparently this poster will be lenticular in design so when you spot it hanging at your local multiplex, keep any eye on it as you walk by to experience a 3D effect. After that novelty wears off, question why the poster looks almost exactly like a scene from Matrix Reloaded.
The trailer is more zombie and Umbrella Corporation infested than the first with enough Matrix-influenced moves by Milla Jovovich to make you wish it were in 3D. The film will be, though, using Avatar's swanky 3D technology when it arrives in theaters on September 10.
> >