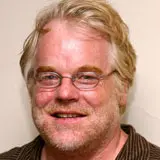 Philip Seymour Hoffman is on the verge of "catching fire" if he signs the dotted line that Lionsgate has put in front of him.
The Hollywood Reporter is reporting that Lionsgate has extended an offer to Hoffman to take the role of gamemaker Plutarch Heavensbee in The Hunger Games: Catching Fire. The offer was apparently sent out on Monday, though there's no updated word on whether the two sides are currently in negotiations or close to sealing a deal.
In The Hunger Games, the gamemaker was played by Wes Bentley. After failing to control the Hunger Games and letting Katniss Everdeen (Jennifer Lawrence) and Peeta (Josh Hutcherson) nearly take control in the end, his fate was sealed by Panem President Snow (Donald Sutherland).
The timing of Lionsgate's offer coincides precisely with Hoffman ending his 18-year association with Paradigm, his agency.
The Hunger Games: Catching Fire will begin shooting in September with Francis Lawrence taking over directorial duties from The Hunger Games director Gary Ross. If Philip Seymour Hoffman boards the sequel, he will join Jennifer Lawrence, Josh Hutcherson, Liam Hemsworth, Donald Sutherland and Woody Harrelson.
Source: THR