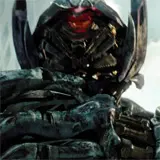 As we approach the 60-day mark until Michael Bay's Transformers: Dark of the Moon arrives in theaters, Paramount's marketing team is starting to deliver some new goods for us to salivate over.
Earlier today, Paramount launched the official Transformers: Dark of the Moon Twitter feed and shortly thereafter tweeted that the first full trailer for the film will debut this Thursday on iTunes Movie Trailers. We had previously been told by Michael Bay that the trailer would be attached to Universal's Fast Five this weekend, but now we know it will be available a day earlier.
Coinciding with the trailer tweet was a link to the first image snapped from the upcoming Transformers 3 trailer. The image shows new Decepticon threat Shockwave in action somewhere on the streets of Chicago. This is only our second official look at the cyclops robot, the first coming in a series of Transformers banners that debuted last week. Expect a new image to be released Tuesday and again on Wednesday as the countdown until the trailer debuts continues.
Transformers: Dark of the Moon starring Shia LaBeouf, Josh Duhamel, Rosie Huntington-Whiteley, John Malkovich, Patrick Dempsey, Ken Jeong, John Turturro, Frances McDormand, Peter Cullen and Tyrese Gibson arrives in theaters on July 1.