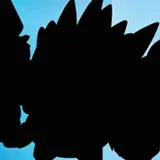 We are now less than a day away from the reveal of Skylanders 4 and publisher Activision is taking advantage of social media to tease two of the all-new characters that will be featured in the game and formally unveiled tomorrow.
The silhouettes of the new Skylanders 4> characters designed by Toys For Bob depict a short fella with a gun or cannon and spiky "hair," and a larger guy with a bow and arrow and two large horns on his head. The size disparity points toward a new kind of Skylander (the larger one) being unveiled with the game. He looks to be on par with the Giants in terms of mass compared to the smaller Skylander, presumed to be a core character.
Also take note of the crystalline background that the characters appear on. This type of design hasn't appeared in a Skylanders game thus far and could be important to the new game's features.
My best guess is that the image below depicts the two new Skylanders that will appear in the Skylanders 4 Starter Pack. We will find out for certain tomorrow when the Skylanders reveal goes down at 4pm EST / 1pm PST.
– Source: Facebook