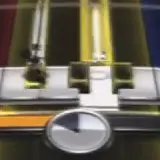 Harmonix CEO and co-founder Alex Rigopulos hosts a new Rock Band 3 vignette that delves into the addition of keyboards to the ongoing music gaming franchise.
In the video you'll get to see a mix of standard and pro mode gameplay footage from 'The Power of Love' by Huey Lewis and The News, 'Oh My God' by Ida Maria, 'Everybody Wants to Rule The World' by Tears for Fears and 'Dead End Friends' by Them Crooked Vultures. The Harmonix development team takes turns about the challenges you'll face when taking on these songs in the game.
Other than goofing around on a synthesizer years ago I have zero knowledge of playing keyboards. Yet videos like these are calling to me to try out Rock Band 3's keyboard Pro mode. Am I the only one so anxious to embarrass himself?
Rock Band 3 will be available for Xbox 360, PS3 and Wii on October 26. Pre-order it for the console and bundle of your preference at a discounted price from Amazon.com.