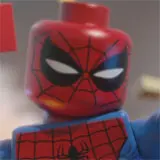 Warner Bros. Interactive have dropped a short but sweet CGI trailer for Lego Marvel Super Heroes along with a hint in its description: it includes a few members of the "Amazing, Mighty and Uncanny" team that come together in the game.
In the trailer you'll get to see Spider-Man, Thor, Wolverine, Hulk, Iron Man, Captain America, Black Widow, and Daredevil. As the trailer ends, the shadow of Galactus looms over the heroes and should make for a fun boss battle at some point in the game, if not the final boss.
Some pre-order bonuses have also been revealed. Images for the first two appear below the trailer.
Iron Patriot mini-figure from Walmart
Spider-Man keychain and free DLC pack for Power Up members from GameStop
$10 account credit from Amazon.com
Lego Marvel Super Heroes is slated to arrive in stores this fall on Xbox 360, PS3, Wii, Wii U, PS Vita, 3DS DS and the PC.