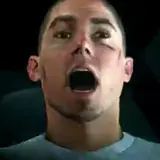 Need for Speed: The Run accellerated into stores today from Electronic Arts, continuing the best-selling racing franchise of all time in a new cross-country race from the Golden Gate Bridge to the Empire State building.
EA dipped into Hollywood talent to bring Need for Speed: The Run to life by enlisting actors Christina Hendricks (Mad Men) and Sean Faris (Never Back Down). Providing eye candy during the cross-country sprint are 2011 Sports Illustrated Swimsuit Cover Model Irina Shayk and Sports Illustrated Swimsuit Model Chrissy Teigen.
To help promote Need for Speed: The Run, EA turned to Michael Bay to direct a two-and-a-half minute trailer for the game. Unlike Bay's Victoria Secret commercials, the director used digitized in-game assets rather than real-life cars and actors. It's actually not that far removed from what he did directing the Transformers movies if you think about it.
Need for Speed: The Run is now available for Xbox 360, Playstation 3, PC, Wii and 3DS.
Click here to buy Need for Speed: The Run on the platform of your choice at Amazon.com and earn a $10 credit toward a future purchase at the online retailer.