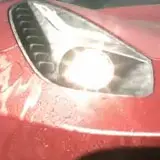 Electronic Arts has announced that Need for Speed Rivals will be speeding onto Xbox One and Playstation 4 later this year. The Xbox 360, Playstation 3 and PC release will occur on November 19, 2013. No Nintendo platforms are included in the launch.
Need for Speed Rivals is being developed by Ghost Games, a new internal studio at EA that is working in conjunction with franchise veteran Criterion Games. They are developing the game on the same Frostbite 3 engine that powers Battlefield 4, also due for release later this year on the same platforms.
As is becoming customary in games, Ghost Games has developed a new online feature called "AllDrive" that is designed to allows players to seamlessly transition from solo gameplay to cooperative and adversarial play against friends. Racers will be able to enter and exit races on-the-fly which will break the mode of traditional races.
The Need for Speed Rivals campaign is designed to allow players to assume the role of a cop or a racer, each with their own unique set of challenges, rewards and consequences. The objectives are obvious; avoid the cops as a racer, and catch racers as a cop.
Ghost Games has also announced that the Ferrari is returning to the franchise for the first time in seven years. One Ferrari confirmed to appear is the F12berlinetta, and others are slated for a spot as well.
EA promises that all the footage from the trailer below is taken from the in-game engine. They also promise a full game reveal at E3 in a couple weeks.