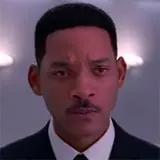 Sony has dropped the first trailer for Men in Black 3 that will introduce time travel into the franchise. That addition will offer the opportunity to see some familiar characters at earlier stages in their lives, most notably Tommy Lee Jones' Agent K.
Much of the trailer follows Agent J (Will Smith) as he goes about his business of being a Men in Black agent. To help save the future and present he has to travel to the past, which apparently requires jumping off nearly the top of the Empire Stage Building. Not for the feint of heart.
As the trailer closes we get our first glimpse of Josh Brolin as the younger Agent K. He looks perfect in the role and is the best part of the trailer with only one short line of dialogue.
Also debuting in the trailer is Emma Thompson as Agent Oh. She'll appear in the past in a secretarial role played by Alice Eve.
Men in Black 3 in 3D (of course) opens everywhere on May 25, 2012.