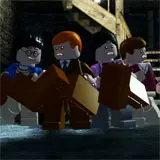 Harry Potter will be taking flight in brick mode with confirmation today from Warner Bros. Interactive Entertainment and TT Games of an upcoming LEGO Harry Potter videogame.
LEGO Harry Potter: Years 1-4 will cover the first four Potter books/movies and allow players to assume the roles of Daniel Radcliffe aka Harry Potter, Ron Weasley and Hermione Granger, amongst others.
As a student of Hogwarts you will be able to attend lessons, cast spells, mix potions, fly on broomsticks and complete tasks to earn house points. Locations to explore in LEGO form include Hogwarts castle, Diagon Alley, the Forbidden Forest and the village of Hogsmeade.
The teaser trailer, which you can watch below, indicates Harry Potter's LEGO debut is coming in 2010 and will likely happen on at least PS3, Xbox 360 and Nintendo Wii.
> >