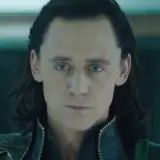 A fourth clip from Disney and Marvel's The Avengers has been unleashed, this one a verbal showdown between the men calling the shots on their respective sides.
In the clip, Loki (Tom Hiddleston) has been imprisoned aboard the S.H.I.E.L.D. Helicarrier in a cell designed to hold The Hulk. Staring the aggressor down is Nick Fury (Samuel L. Jackson), a desperate S.H.I.E.L.D. leader after a series of stunts Loki has already pulled before this point in the film.
The two discuss power, or more specifically how each interprets it. Fury tells Loki the cell was designed for someone "more powerful than him." Loki, however, aligns power more with the Tesseract, that small glowing cube introduced during Captain America: The First Avenger.
Watching from various monitors are The Avengers and S.H.I.E.L.D. agents, including Maria Hill (Cobie Smulders), Black Widow (Scarlett Johansson), Captain America (Chris Evans) and Bruce Banner (Mark Ruffalo). Thor (Chris Hemsworth), Loki's brother, looks especially concerned about Loki's diatribe.
As deadly serious as Loki is when discussing the ramifications of possessing "real power," Fury gets in the last jab while exiting with a joke about "real power wanting a magazine or something."
The Avengers takes aim at box office records when it opens on May 4. Be sure to have a gander at the previously released The Avengers clips.