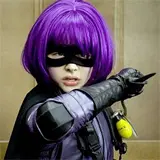 The fate of Kick-Ass 2 got a kick in the ass today when news broke that Universal is in discussions with the first film's creator, Matthew Vaughn, to help finance and distribute the sequel.
According to THR, Vaughn has already completed the Kick-Ass 2 script and personally selected Jeff Wadlow (Never Back Down) to direct. If the deal with Universal goes through, and fanboys the world over are crossing their fingers it will, production on Kick-Ass 2 would get underway as early as this September with Vaughn serving in a producing capacity.
The Kick-Ass 2 movie story is a combination of the Kick-Ass 2 comic series as well as the Hit-Girl spin-off. The film would reportedly begin with the Hit-Girl segment occupying the first act, then shift into the events of the Kick-Ass 2 comic. How far into the comic the film goes remains to be seen.
Hit-Girl actress Chloe Grace Moretz was barely 12 when she filmed Kick-Ass and stole every scene she appeared in a few years ago. It seems like she has aged and matured infinitely since then, appearing in multiple films including Hugo, Let Me In, and alongside Johnny Depp in Tim Burton's Dark Shadows. The time between Kick-Ass and Kick-Ass 2 would need to adjust in order to explain Moretz's maturation.
The other young Kick-Ass stars including Aaron Johnson as Kick-Ass and Christopher Mintz-Plasse as uber-nerd villain Red Mist are presumed to be returning for Kick-Ass 2 as well, assuming Universal and Vaughn seal a deal.
Source: THR