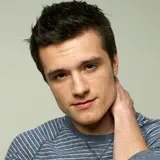 Josh Hutcherson can now list his name next to Alex Pettyfer as one of many young male actors vying for the role of Peeta in Lionsgate's The Hunger Games movie adaptation.
Hutcherson spoke with Entertainment Weekly at SXSW over the weekend and confirmed that he has had meetings (plural) with The Hunger Games movie director Gary Ross. He also claims to have read an old version of the script and, like Pettyfer and many other actors, is simply waiting to hear who has snagged the coveted role.
If Hutcherson is cast then he should have no problem handling the Peeta role. His screen credits are well beyond his age with starring roles in Bridge to Terabithia, Journey to the Center of the Earth, Cirque du Freak: The Vampire's Assistant, The Kids Are All Right, Detention (screening at SXSW), the yet-to-be-released Red Dawn remake, and coming up Journey 2: The Mysterious Island (in post production) and 7 Days in Havana (shooting this summer) films on his resume.
Whoever is cast as Peeta will be the love interest of Katniss Everdeen, the female protagonist and central character of The Hunger Games Story. Jennifer Lawrence, who won an Academy Award nomination for her gritty role in Winter's Bone for Lionsgate and will be seen as a young Mystique in X-Men: First Class this June, is considered the frontrunner for the role.
Some fans of Suzanne Collins' The Hunger Games book trilogy have already begun protesting that 20-year old Jennifer Lawrence is too old for the role of Katniss, a 16-year old in the books. Lionsgate appears to be aiming a little older – Hutcherson is currently 18 – where there is a larger pool of more easily recognizable and seasoned young actors and actresses to choose from.
Lionsgate will release the first film in The Hunger Games trilogy on March 23, 2012. Gary Ross and the producers are expected to formally announce at least a partial cast list any day now.
Source: EW